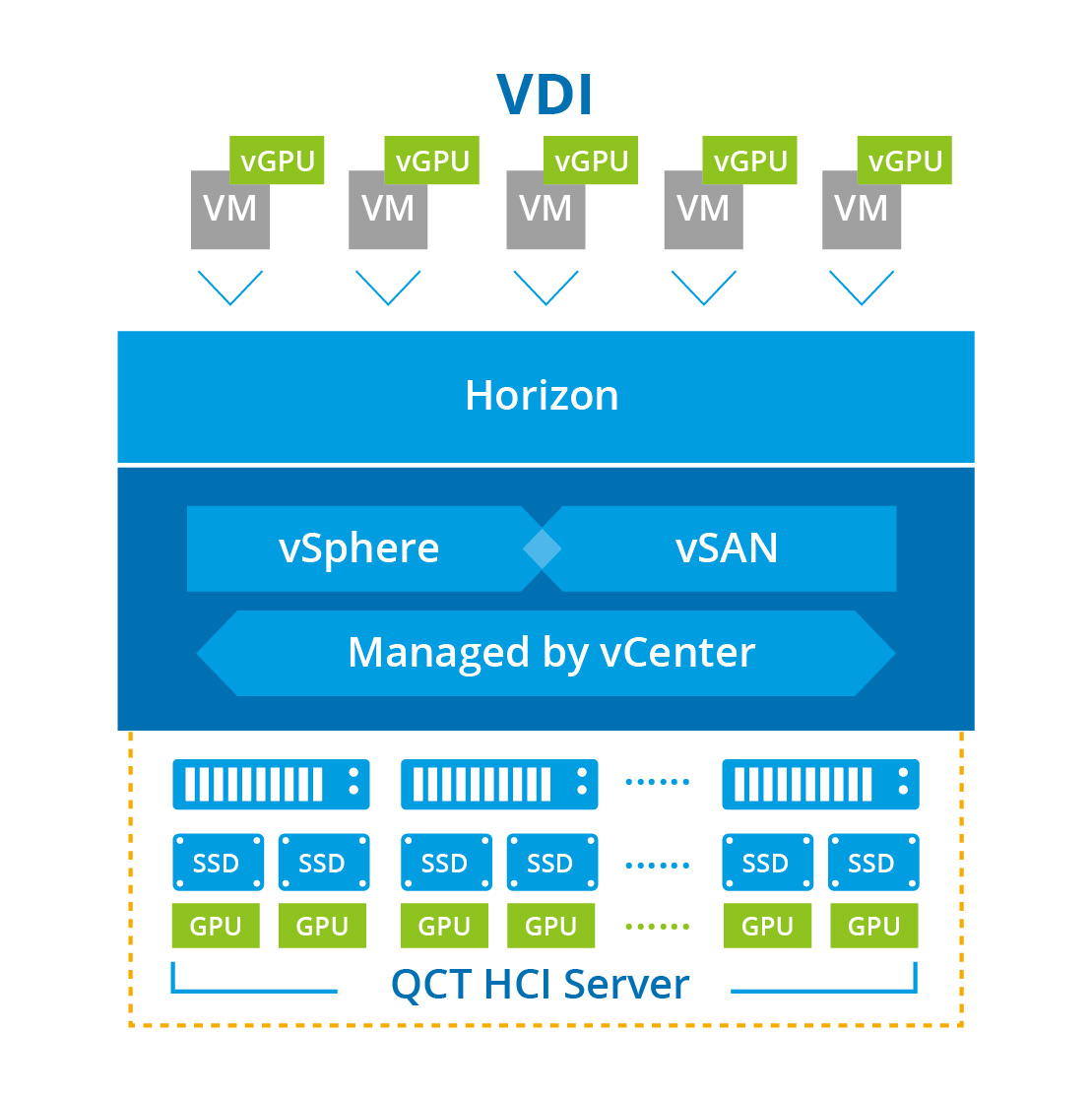 Our close, collaborative relationship with VMware has produced a wealth of hyper-converged infrastructure solutions that bring the power of the software-defined data center to mutual customers of many sizes, not just the hyperscale players. Customers reap the rewards of this collaboration, with new solutions optimized for different applications, workloads and business objectives.
Mike Yang - president of QCT
Enhanced User Experience in 3D Environment
QxVDI VMware Edition-3D is a VDI solution with the nVidia GRID GPU card. By leveraging the power of nVidia's GRID technology, QxVDI VMware Edition-3D can provide not only a rich, multimedia user 2D and 3D experience from the cloud to any device, but also maximize the number of users who can access GPU functionality in virtual machines.
Centralized Management to Protect Sensitive Information
With today's increasingly dispersed, mobile workforce, the threat of data loss has never been greater. Centralized management of QxVDI VMware Edition-3D, helps enterprises protect their most valuable data, keeping it secure in the data center while providing just the right level of access to users. It keeps corporate intellectual property safe while boosting productivity across the enterprise.
Reliability
More than 14-years of experience in data center system design engineering and manufacturing, QCT is highly recognized as the world's leading data center enabler for delivering exceptional quality and reliability.
Faster Time to Value
QCT pre-validates and optimizes the solution configuration and provides hardware and software integration service to ease your pain in compatibility issues. And QxVDI VMware Edition –Auto Deployment Tool can drastically shorten implementation time. With this service and tool, VDI implementation is simplified to get faster time to value in your virtual desktop environment.
Scalable Building Block for Software-Defined Infrastructure
QxVDI VMware Edition-3D is a scalable Software-Defined Data Center (SDDC) building block. It features hardware stacking and expansion with no downtime of IT services during upgrades, making it ideal for mission-critical applications.
QxVDI-3D
Model name
QuantaGrid D52BV-2U
Form Factor
2U 1 node


Processor
(8) Intel® Xeon® Scalable Processors Gold/Platinum Series
Memory
1024 GB
Driver Bays Per Server
(8) 3.5" hot-plug
Cache Tier
(8) 960GB SSD
Capacity Tier
(24) 3840GB SSD
GPU card
(4) NVIDA GPU
Support Users
Based on vGPU requirement
Software License
VMware Horizon
Warranty
3 years hardware warranty and 1 year VMware SNS support
Optional: Network Switch
QuantaMesh T3000 or T4000 series switch
QxVDI VMware Edition-3D Download
Datasheet

QxStack QxVDI VMware Edition flyer

QxVDI VMware Edition Series

QxVDI VMware Edition Series

QxVDI VMware Edition Series

QxVDI VMware Edition Series

QxVDI VMware Edition-3D Datasheet

QxVDI VMware Edition-3D Datasheet

QxVDI VMware Edition-3D Datasheet

Reference Architecture

QxVDI VMware Edition-3D Reference Architecture

QCT HCI Security Reference Architecture

FAQ
Contact QCT Expert
Get more information about QCT Solutions!