QCT Azure Stack HCI Solution
---
Accelerate your business with QCT Azure Stack HCI Solution
Azure Stack HCI solution is an invitation-only program by Microsoft in which solution providers design hyper-converged infrastructures with Windows Server technologies.
After going through Microsoft's validation and requirements, all the systems are preconfigured with certified components, tested and certified by QCT to avoid any guesswork.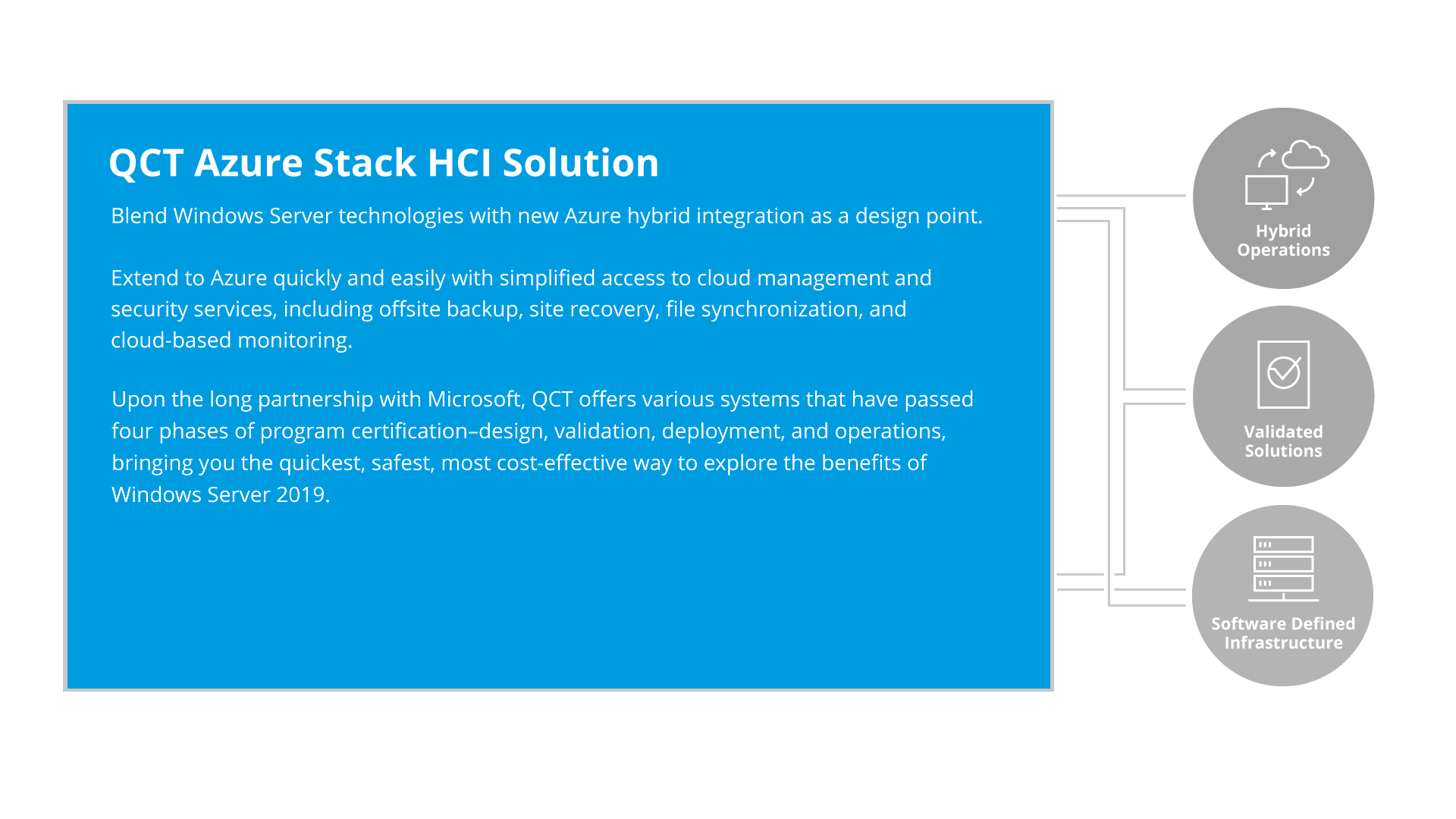 Learn more about Azure Stack HCI and QxStack Windows Server Solution
Make Great Hybrid Connection through Windows Admin Center
The browser-based Windows Admin Center is the main management tool for Azure Stack HCI, which is designed to make managing HCI and the hybrid cloud easier than ever before.
QCT Windows Admin Extension, which integrates exclusive QCT system configuration Information in a single pane of glass dashboard, provides users a simple and seamless experience to manage and monitor your hybrid solution.
Explore hybrid capability with QCT Extension of Windows Admin Center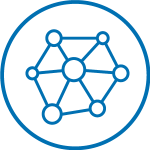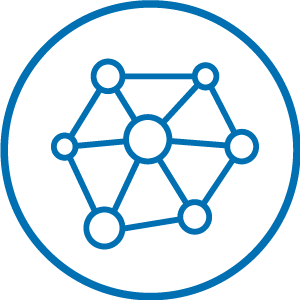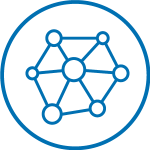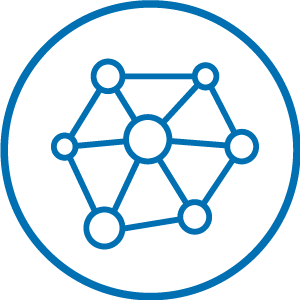 Enable diverse use cases
Design varied configurations optimized for diverse business critical application and use cases to make to adoption even more convenient.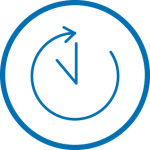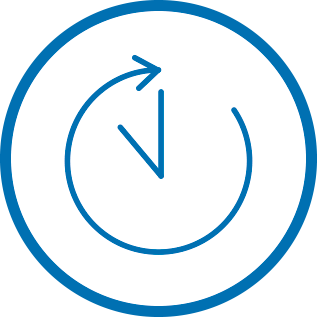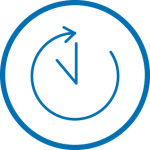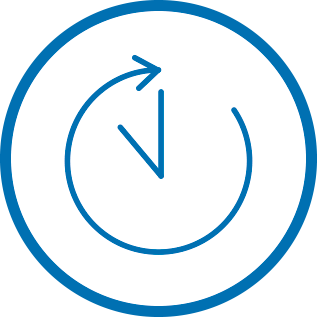 Deliver time-to-value
Pre-configured with certified components and pre-validated configuration to minimize your hardware and software integration efforts.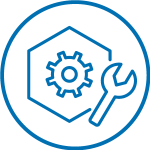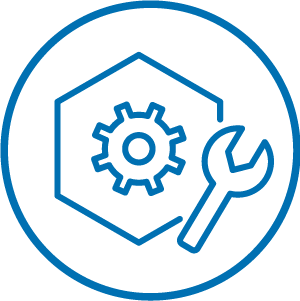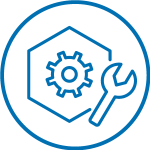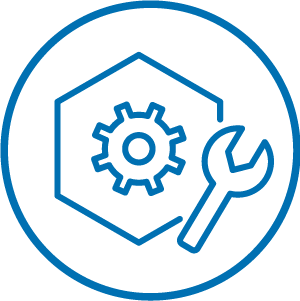 Ease of deployment
Ease of deployment allows our team of experts to walk you through our portfolio and recommend the best suited solution.
Orderable BOM
QuantaGrid D52BQ-2U
Profile
Performance
Scale
2-4 Nodes
Form Factor
2U 1-Node Rackmount Server
RDMA / TPM 2.0
Yes / Yes
CPU
Intel® Xeon® Scalable processors with Silver, Gold and Platinum options
Memory
256 GB – 768GB
HBA
SAS 9305-16i
NIC
1x Quanta OCP Mezz CX4, Dual Port 25G or 1x Q.logic 41212, Dual Port 25G
Drives (Per Node)
Type
Qty.
Size
Capacity
SATA
SSD
4-24
480GB, 960GB, 1.92TB
Orderable BOM
QuantaPlex T41S-2U
Profile
Performance
Scale
4-16 Nodes
Form Factor
2U 4-Node Rackmount Server
RDMA / TPM 2.0
Yes / Yes
CPU
Intel® Xeon® processor E5-2600 v4 product family
Memory
256 GB – 512GB
HBA
N/A
NIC
1x Quanta OCP Mezz CX3, Dual Port 10G
Drives (Per Node)
Type
Qty.
Size
Capacity
SATA
SSD
4-6
480GB, 960GB, 1.92TB
Orderable BOM
QuantaGrid D52B-1U
Profile
Performance
Scale
2-16 Nodes
Form Factor
1U 1-Node Rackmount Server
RDMA / TPM 2.0
Yes / Yes
CPU
Intel®Xeon® Scalable processors with Silver, Gold and Platinum options
Memory
256GB -768 GB
HBA
NA
NIC
1x Quanta OCP Mezz CX4, Dual Port 25G
Drives (Per Node)
Type
Qty.
Size
Cache (Optional)
DCPMM
12
128GB
Capacity
NVMe SSD
4-12
2TB, 3.2TB
Orderable BOM
QuantaPlex T42S-2U
Profile
Performance
Scale
4-16 Nodes
Form Factor
2U 4-Node Rackmount Server
RDMA / TPM 2.0
Yes / Yes
CPU
Intel® Xeon® Scalable processors with Silver, Gold and Platinum options
Memory
256 GB – 512GB
HBA
N/A
NIC
1x Quanta OCP Mezz CX4, Dual Port 25G
Drives (Per Node)
Type
Qty.
Size
Capacity
SATA
SSD
4-6
480GB, 960GB, 1.92TB
Orderable BOM
QuantaGrid D51B-2U
Profile
Performance
Scale
2-16 Nodes
Form Factor
2U 1-Node Rackmount Server
RDMA / TPM 2.0
Yes / Yes
CPU
Intel®Xeon® Processor E5-2600 v4 product family
Memory
256GB -768 GB
HBA
Avago SAS3 3008 Fury
NIC
1x Quanta OCP Mezz CX4, Dual Port 25G
Drives (Per Node)
Type
Qty.
Size
Cache
NVMe
SSD
2
800GB
Capacity
SATA
SSD
12
960GB
Orderable BOM
QuantaGrid D52BV-2U
Profile
Performance
Scale
2-4 Nodes
Form Factor
2U 1-Node Rackmount Server
RDMA / TPM 2.0
Yes / Yes
CPU
Intel® Xeon® Scalable processors with Silver, Gold and Platinum options
Memory
256 GB – 768GB
HBA
Avago SAS3 3008 Fury
GPU
P100
NIC
1x Quanta OCP Mezz CX4, Dual Port 25G
Drives (Per Node)
Type
Qty.
Size
Capacity
SATA
SSD
4-8
480GB, 960GB, 1.92TB
Orderable BOM
QuantaGrid D52BQ-2U
Profile
Balanced
Scale
2-4 Nodes
Form Factor
2U 1-Node Rackmount Server
RDMA / TPM 2.0
Yes / Yes
CPU
Intel® Xeon® Scalable processors with Silver, Gold and Platinum options
Memory
256 GB – 768GB
HBA
SAS 9305-16i
NIC
1x Quanta OCP Mezz CX4, Dual Port 25G
Drives (Per Node)
Type
Qty.
Size
Cache
SATA
SSD
2-4
480GB, 960GB, 1.92TB
Capacity
SATA
HDD
4-8
8TB, 10TB
Orderable BOM
QuantaPlex T41S-2U
Profile
Balanced
Scale
4-16 Nodes
Form Factor
2U 4-Node Rackmount Server
RDMA / TPM 2.0
Yes / Yes
CPU
Intel® Xeon® processor E5-2600 v4 product family
Memory
256 GB – 512GB
HBA
N/A
NIC
1x Quanta OCP Mezz CX3, Dual Port 10G
Drives (Per Node)
Type
Qty.
Size
Cache
SATA
SSD
2
480GB, 960GB, 1.92TB
Capacity
SATA
HDD
4
2TB
Orderable BOM
QuantaGrid D52BM-2U
Profile
Balanced
Scale
2-4 Nodes
Form Factor
2U 1-Node Rackmount Server
RDMA / TPM 2.0
Yes / Yes
CPU
Intel® Xeon® Scalable processors with Silver, Gold and Platinum options
Memory
192 GB – 768GB
HBA
SAS 9305-16i
NIC
1x Quanta OCP Mezz CX4, Dual Port 25G
Drives (Per Node)
Type
Qty.
Size
Cache
DCPMM
12
128GB
Capacity
SATA
HDD
4-16
8TB, 10TB
Orderable BOM
QuantaPlex T42S-2U
Profile
Balanced
Scale
4-16 Nodes
Form Factor
2U 4-Node Rackmount Server
RDMA / TPM 2.0
Yes / Yes
CPU
Intel® Xeon® Scalable processors with Silver, Gold and Platinum options
Memory
256 GB – 512GB
HBA
N/A
NIC
1x Quanta OCP Mezz CX4, Dual Port 25G
Drives (Per Node)
Type
Qty.
Size
Cache
SATA
SSD
2
480GB, 960GB, 1.92TB
Capacity
SATA
HDD
4
2TB
Orderable BOM
QuantaGrid D51PH-1ULH
Profile
Balanced
Scale
2-16 Nodes
Form Factor
1U 1-Node Storage Server
RDMA / TPM 2.0
Yes / Yes
CPU
Intel®Xeon® Processor E5-2600 v4 product family
Memory
256GB - 512GB
HBA
Avago SAS3 3008 Fury
NIC
1x Quanta OCP Mezz CX3, Dual Port 10G
Drives (Per Node)
Type
Qty.
Size
Cache
SATA
SSD
4
1.2TB
Capacity
SATA
HDD
12
6TB
Orderable BOM
QuantaGrid S31A-1U
Profile
Balanced
Scale
2-4 Nodes
Form Factor
1U 1-Node Rackmount Server
RDMA / TPM 2.0
Yes / Yes
CPU
Intel® Xeon® processor E3-1200 v6 product family
Memory
64GB – 128GB
HBA
N/A
NIC
1x Quanta OCP Mezz CX3, Dual Port 10G
Drives (Per Node)
Type
Qty.
Size
Capacity
SATA
SSD
4
480GB, 960GB, 1.92TB
Orderable BOM
QCT QuantaPlex T22P-4U
Profile
Capacity
Scale
2-4 Nodes
Form Factor
4U 1-Node Rackmount Server
RDMA / TPM 2.0
Yes / Yes
CPU
2nd Generation Intel® Xeon® Scalable Processors
Memory
32GB -1536GB
HBA
HBA QS3008-8i (SAS 9300-8i)
NIC
2x Mellanox ConnectX-4, Dual Port 25G
Drives (Per Node)
Type
Qty.
Size
Cache
SATA
SSD
2-8
480GB, 960GB, 1.92TB
Capacity
SAS
HDD
4-70
2TB,4TB,6TB, 8TB
Orderable BOM
QuantaGrid D52T-1ULH
Profile
Balanced
Scale
2-4 Nodes
Form Factor
1U 1-Node Storage Server
RDMA / TPM 2.0
Yes / Yes
CPU
Intel® Xeon® Scalable processors with Silver, Gold and Platinum options
Memory
256 GB – 512GB
HBA
Avago SAS3 3008 Fury
NIC
1x Quanta OCP Mezz CX4, Dual Port 25G
Drives (Per Node)
Type
Qty.
Size
Cache
SATA
SSD
2-4
480GB, 960GB, 1.92TB
Capacity
SATA
HDD
4-12
8TB, 10TB